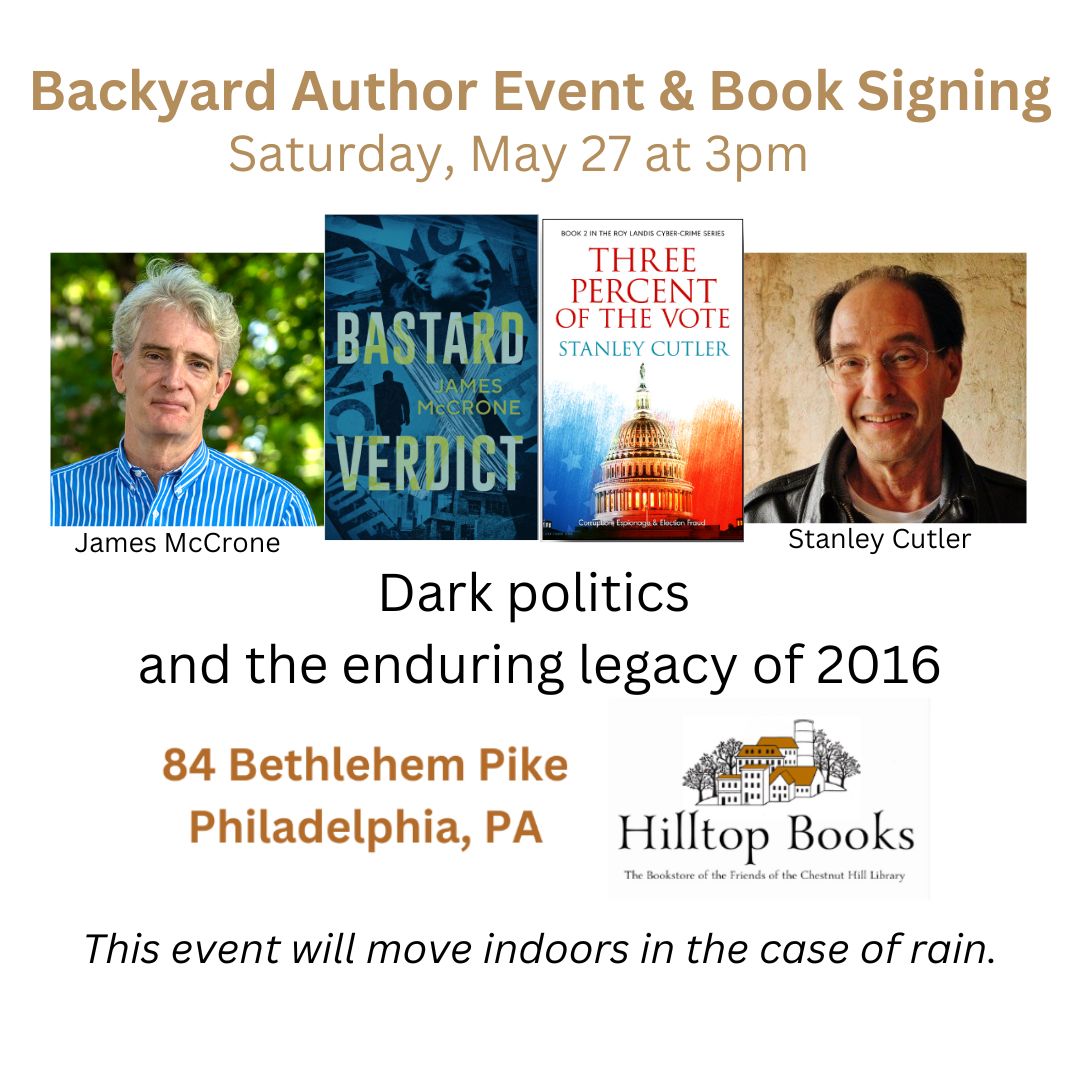 Book Launch & Discussion with Local Thriller Authors
We've heard many of you gush about all types of whodunits, thrillers, and suspense novels – it's why we think you'll enjoy spending an afternoon with local authors Stan Cutler and James McCrone this May.
Both authors have several books in the suspense/crime fiction/thriller genres and we're lucky to have them discussing their books Three Percent of the Vote (Cutler) and Bastard Verdict (McCrone). Both books share themes of election fraud and explore unsavory elements in modern politics. Please join us Memorial Day weekend to learn more and pick up copies of their signed books!
More about Three Percent of the Vote and Bastard Verdict to whet your reading appetites:
Three Percent of the Vote by Stan Cutler: In 2016, a Pennsylvania Congressman wins re-election against long odds. Can voting machines be hacked? Cyber sleuth Roy Landis is persuaded to investigate. Landis, a knight in tarnished armor, a gray-hat hacker, finds malware. Human trails and cyber traces point to a cast of American and Russian villains. Will lame-duck President Obama have enough information to act before a new Congress and a new President take their oaths? And what actions, if any, would be good for the country?
Bastard Verdict by James McCrone: You don't have to win, just don't lose.
High stakes and low politics combine with deadly effect in the new thriller, Bastard Verdict, by James McCrone.
A second referendum on independence looms, and a Scottish official enlists elections specialist Imogen Trager, a by-the-numbers, if rarely by-the-book investigator, to look into irregularities in the 2014 Scottish Independence referendum. Imogen uncovers a trail of criminal self-dealing, cover-ups, and murder leading to the highest levels of power. None but a very few know the truth. And those few need it to stay hidden at any cost.
Imogen will risk what's left of her standing, her career–and maybe her life–to get at the truth.